What are Featured Snippets?
Featured snippets on Google refer to the information that appears on a search engine results pages that you can read without having to visit the webpage. This Google feature is displayed as questions and answers that can be pulled down, making it extremely easy to get answers to questions and avoiding having to visit a website and sift through data if you just need information on something specific. Featured snippets data is pulled from indexed pages and the information provided has a link to the webpage where the information originates from, this ensures that should you require more information, you can easily visit the page. Some of the most common kinds of featured snippets include lists, definitions and tables. Another popular kind is video featured snippets, and most of these videos are taken from Youtube or other popular video streaming websites.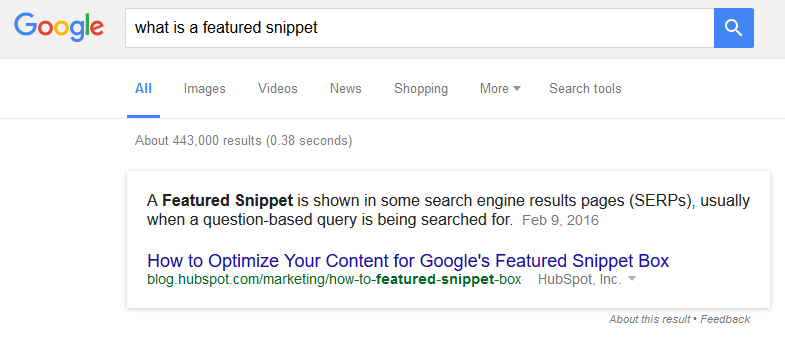 A website or webpage can be featured on snippets by optimising its content to match questions that would be asked. This content should be brief and to the point, as this kind of information is what Google looks for when creating featured snippets. By having an understanding of the market and knowing the kinds of questions that people are going to ask, you can also optimise your content to make sure that your information will be deemed useful by Google, so getting an idea of who your target audience is and understand what they are looking for is another way to make sure that your information appears on featured snippets.
Why Featured Snippets are Important For SEO?
The definition of featured snippets is that they are used to display a small amount of information on the search engine results page on Google, offering a quick and easy way for Google users to find information. Featured snippets in Google search represent a chance to further display your information and draw users to your website. This extra search engine results page feature offers web pages the chance to become more visible, especially because these snippets are often displayed at the top of search engine results pages. When it comes to SEO, recognition and site visits are some of the most important elements to consider and aim for when creating your website and the content that will be on it. By boosting your information into a snippet position, you are ensuring that your content will be more easily seen and that users are far more likely to visit your website compared to others who have similar information to you.
What are The Benefits of Featured Snippets?
Improves Your Organic Clickthrough Rate
One of the most obvious benefits of featured snippets is that they have the ability to increase the amount of organic traffic that makes its way to your website. The clickthrough rate refers to the number of clicks your advertisement receives divided by the number of times that the advertisement is shown, though in this instance the advertisement would be the featured snippet. An increase in the number of people that make their way to your page will be an indicator that the featured snippet is working and that the topics you have optimized for are effective, ensuring that your content is working well and is helpful to people who search specific queries.
Increases Your Credibility
When it comes to website authority, Google is the search engine that places this as one of its top priorities and ranking factors that they consider when placing your webpage on featured snippet SERPs. By featuring in the featured snippets, you are letting Google know that your website has a high authority thanks to the higher amount of traffic that you would receive and the link building that you have to do to create your featured snippet.
Indicates Your Content Is Effective
Your information appearing on a featured snippet is indicative that Google likes your content and thinks that it is effective. By appearing on these featured snippets, your content is being seen as the best answer to certain questions, ensuring that both your website and your content is good! This type of reassurance not only impacts how search engines view your data, but also how people view it. If you appear on a featured snippet, your audience is far more likely to trust your continent and your website as a whole because Google has given it the okay!
What are The Types of Featured Snippets?
Paragraphs
One of the most common featured snippets examples are paragraphs. These paragraphs are short, to the point and they are often answering a question relating to what a user has typed into the search bar. These types of featured snippets are useful when looking for a quick definition or answer to a question. A type of paragraph featured snippet is the definitions that pop up at the top of the search engines results page with a definition.
Lists
Lists as featured snippets are often used to rank things, whether this ranking is numbered or random entirely depends on what the user has researched. Another common type of list shown on the featured snippets is the steps to a process. Lists are very popular featured snippets and they offer users the chance to get quick and short answers to questions with easy to read and well-structured information. If you are wanting to optimise your content to appear on a listed featured snippet, be sure to organise your content accordingly with either bullet points or numbering to display your list.
Tables
An extremely helpful featured snippet to display data and numbers are the tables that are displayed. These types of featured snippet tables are Googles most common type, and to make sure that you appear on these table searches, you need to make sure that you include a table in your content. Remember that Google is going to look for the most relevant content but also the information that is presented in the best way, this is especially true when looking at the table featured snippets.
How Should You Use Featured Snippets To Help Your SEO?
Many may be thinking that featured snippets and SEO would not work well together, as the one sort of negates the other. The whole point of SEO is to increase the amount of traffic to a webpage and with featured snippets, you are ultimately seen to be creating a process whereby people do not need to visit your page. While this theory does make sense, it is actually not true and featured snippets have been seen to greatly improve and increase how many people visit a webpage! The following are a few ways that you can use featured snippets to help to improve your SEO.
Do Content Optimization
The top featured snippets have content that has been optimised to be short and to the point, answering a question or listing a method in an easy to read and well-displayed manner. By optimising your content for these kinds of featured snippets, you are ensuring that your content is easily readable and will be recognised by Google search engine crawlers. Featured snippet optimization has a lot of benefits when it comes to arranging your content, and it forces you to write in a concise manner, taking out all of the unnecessary phrases and wording that is not useful to improving your SEO.
Adds Structured Data to Your Page
When organising your data on your page and trying to get onto a featured snippet, it is important that your webpage be organised and structured so that Google can easily note the questions that your information would be able to answer. By using headings within your content that are easy and include keywords, you can be sure that your content is optimised to potentially be recognised to appear on a featured snippet. This structure is not just useful when it comes to search engines understanding your content but it also helps visitors to your page easily work through your content, without being confused about the structure. Using headings is incredibly useful and even if you are not looking to get a featured snippet, it is still important to structure your content this way.
What are The Things to Consider About Featured Snippets?
When trying to get a featured snippet, it is important to recognise and understand how Google finds the information that they use. By understanding this process, you can be sure that you are optimising your content to stand the best possible chance to appear on a featured snippet. One important thing to note and understand about featured snippets is that if you are able to secure one, it does not mean that the work is done. Google has the prerogative to change featured snippets at any point in time, and if your information is no longer seen to be the most effective according to Google crawlers, it will be replaced. It is for this reason that you need to keep up to date with changes, both with regards to your continent and the technical algorithm changes that Google adjusts.
Do Featured Snippets Increase Zero-Click Searches?
Yes, featured snippets can increase zero-click searches as the information that is being searched for appears on the search engine results page, meaning that actually visiting the page is sometimes not necessary. While this is true and zero-click searches have increased since the introduction of featured snippets in 2019, it does not mean that appearing on featured snippets is a bad thing, and though the amount of zero-click searches has increased, appearing on a featured snippet can drive more traffic than it would have beforehand. The zero-click increase makes it even more important for users to appear on the featured snippets, as this is the only way to drive up the traffic on your page.
Are Zero-Click Searches Bad for Websites? Why?
Zero-click searches are not always bad, though it does depend a lot on what type of website you are and what content you are supplying. Though the zero-click searches may have decreased organic traffic, they do also help websites to avoid having a high bounce rate and irrelevant traffic. zero clicks are only bad for websites that are listing who and when type contents and even websites posting song lyrics may have an issue, but generally speaking, zero-click swatches are not bad for websites! This is especially true for online shops, where items are displayed and draw customers in much easier when compared to before featured snippets were around.
How Does Markethinkers Optimize Your Content For You to Rank on Featured Snippets?
Here at Markethinkers, we are all about getting you to where you want to be and improving your online space to reflect the goals you have set for yourself. In order to optimize your content and webpage so that you have the best chance of appearing on a featured snippet, you would need a team like Markethinkers, who have the knowledge and the know-how to help you achieve this goal. Through a variety of different methods, related to both structure and content, we will be able to help you improve your SEO and make sure that you have the best shot to get a featured snippet and increase the amount of traffic that makes its way to your webpage.